Inside: Don't have hours each day to blog? No problem! We've compiled this handy list of 37 blog tasks that you can complete in 5 minutes or less.
Wouldn't you love to have hours, every single day, that you could sit down at your computer, coffee cup in hand, to work on those blog tasks that are piling up? We all do!
The thing is, those long stretches of time rarely happen. Especially if you're a mom.
So, if you want to make progress on your blog and you're short on time, try tackling some of these 5 minute blog tasks.
Engage on social media while you're in the school pick-up line—only when the car is parked, of course. Brainstorm post ideas while you're waiting on your grocery pickup. Tackle an email while you're in the waiting room at your child's dentist appointment.
You get the idea.
You'll be surprised at what you can do in those 300 seconds!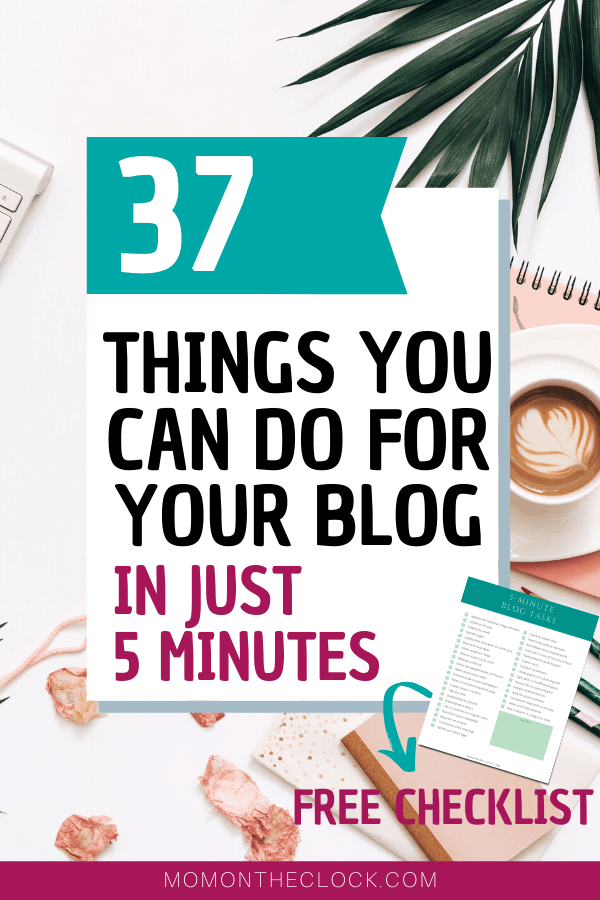 Blog Tasks You Can Complete in Just 5 Minutes:
We'll group these blogger tasks into categories to make it easier to pick one, but really, all of these are helpful. Whether it's tackling your inbox or making connections with your audience, these little to-dos are the perfect way to fill those tiny pockets of time that crop up through the day.
Make sure you download the printable version of this blogging checklist at the bottom of the post!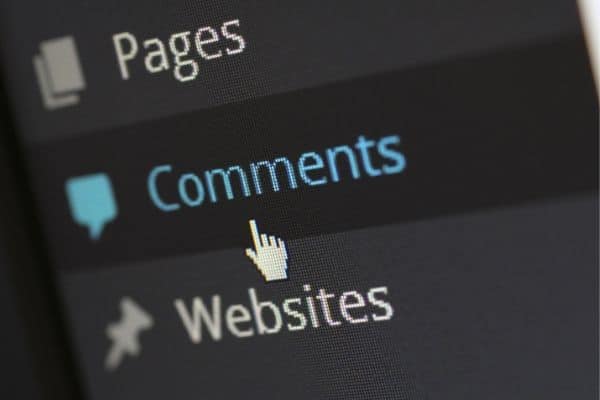 1. Approve and respond to blog comments.
Don't let those comments pile up. It's so easy to do, especially if your blog is the target of spam comments, as we all are now and then. Approve and respond to them quickly so your audience knows you check in frequently.
2. Update an old post.
Look at an old post to see if you need to update statistics, add new links, or change out the graphics. We all had some pretty terrible graphics back when we first started, right?
3. Respond to emails.
It's important to check your email frequently, but you don't want to get buried in your inbox all day. Set a timer for 5 minutes and see how many responses you can knock out. You can make this a lot easier on yourself by creating canned responses to inquiries that you get frequently.
4. Update your plugins.
Outdated plugins can be a serious security risk, so make sure you update them promptly. However, as a word of warning, do your research first. Ask your blog friends if they've updated yet. Sometimes, updated plugins have been known to break sites temporarily, and you'd hate to miss out on that traffic or income. So do your due diligence here.
5. Update the meta description on an old post.
Do you see impressions but few clicks in your analytics on a particular post? This is the perfect opportunity to update the meta description to try to grab some of that traffic. Remember to use your primary keyword in the meta description!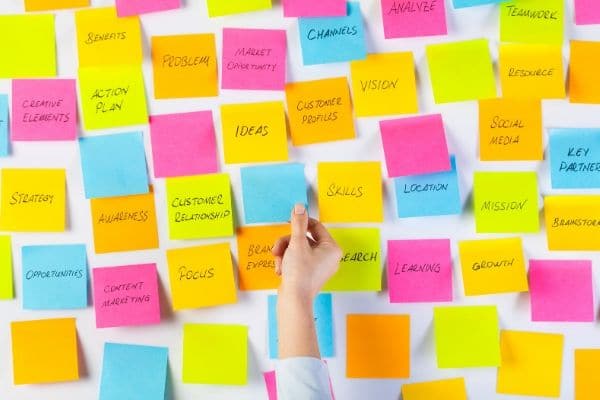 6. Brainstorm post ideas.
Do you ever feel stuck for something to write about? Take five minutes and brainstorm some ideas. Write them in free-form, create a mind map, or whatever you like. Need inspiration? Grab a magazine, book, or heck, just look at a title generator using your keywords to see what you can come up with.
7. Follow people on Twitter.
Find 5-10 people in your niche to follow. Not only is it nice, but they'll have great content that you can retweet to your followers!
8. Retweet others in your niche.
Use hashtags to search for topics in your niche or search for trending topics that your audience might be interested in. Retweet those tweets that would be valuable for your audience. Tip: If you use Buffer, you can load up your queue with retweets, too. Just make sure you're using the Chrome extension.
9. Redesign an old pin.
Did your post not get the traction you thought it would on Pinterest? Try a new image, a different font, or a different font color. Consider changing your headline. Sometimes these little tweaks can take a "blah" pin to a viral one.
10. Follow new people or boards on Pinterest.
Your "following" feed is only as good as the people you follow. In order to find quality content to repin, find some great boards or bloggers to follow.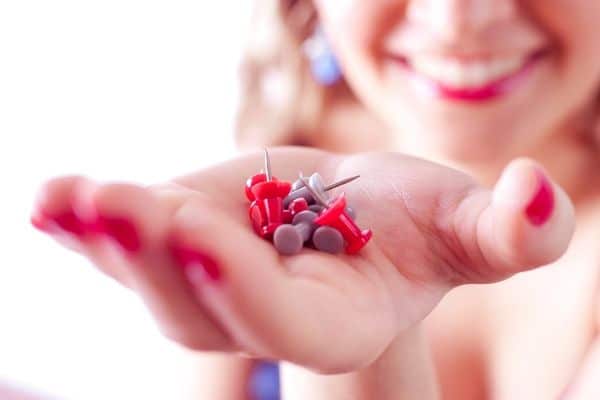 11. Repin content from others.
Sharing others' content on Pinterest is essential for building great boards, so take a few minutes to repin great content. Perhaps you can even take this time to create a new board to keep your profile fresh. Pinning content to new boards is super easy using the "more ideas" tab.
12. Brainstorm opt-ins and lead magnets.
Spend a few minutes brainstorming a fabulous freebie to attract people to your email list or product. The right freebie can bring in great customers!
13. Share a viral video to your Facebook page.
You know that friend that's always sharing hilarious stuff on Facebook? Use her as your go-to source for winning content. Look at her profile, and share a funny/touching/informative VIDEO post. Videos usually get better reach than photos or links.
14. Create a video in Lumen5.
Turn one of your blog posts into a quick video using Lumen5. You may not get the video processed and uploaded in under 5 minutes, but you can certainly create the video in that amount of time.
15. Tidy your desk.
A lack of organization can make it difficult to focus. Seriously… clean your desk (or at least put things into neat piles), and see how much better your workspace feels.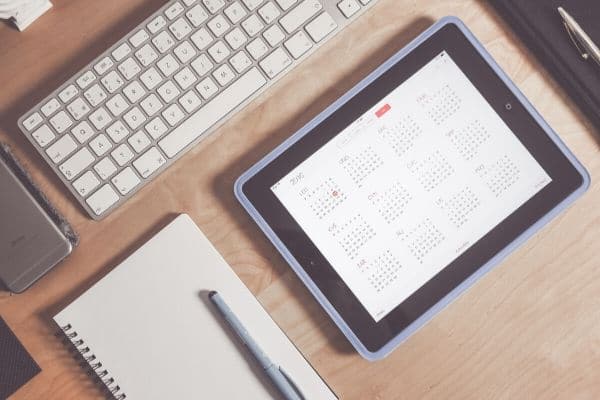 16. Update your editorial calendar.
Use all those topic ideas you've brainstormed recently to update your editorial calendar. Don't just add them to an unending list of topic ideas; give them a due date to ensure they get done.
17. Check Google Analytics.
First, a word of caution: Do NOT become a slave to the numbers. Watching your real time or daily stats can be as frustrating during slow times as it is fun in the good times. However, it is a good idea to check in regularly to keep an eye on things and to record your stats at least monthly.
18. Like or comment on Instagram posts.
You can tackle a lot of these in 5 minutes! If you're slacking on your Instagram engagement, this is a quick and easy thing to do every day for 5 minutes. Heck, even 2 minutes is great. Make sure your comments are valuable rather than spammy, though.
19. Brainstorm social media posts.
A blogger's work is never done. We constantly have to think about content not only on our blogs, but on our social channels, too. Posting on your social profiles is much easier if you have a plan in place. Take 5 minutes to plan out your next week of posts.
20. Republish an old post.
No time for a new blog post? No problem! Today's blog readers usually don't keep up with every single post you put out, so save yourself some time by republishing. Simply change the date of the post, and hit update to make it look new again. DO NOT DO THIS if you have dates in your permalinks, though. You never want to change those permalinks.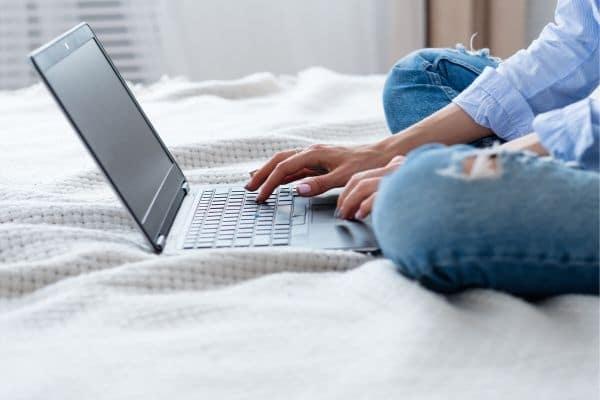 21. Comment on a few new blogs.
How happy does it make you when you get a thoughtful, valuable blog comment? Pay it forward by visiting a few blogs in your niche to leave helpful comments there.
22. Update your About page.
I don't know about you, but I tend to be a "set it and forget it" kind of gal when it comes to my About page. But updating it regularly with your top posts or new information about you, your stats, etc., ensures you're putting your best foot forward with your audience and potential brands you may want to partner with.
23. Check for broken links.
You don't want a bunch of broken links on your blog; it leads to a bad user experience. Take a few minutes now and then to check your posts to make sure all links are working. You can check them for free without installing a plugin HERE.
24. Interlink old posts to new ones.
It's easy to add links from your new posts to old ones, but you may not have worked on linking those old posts to your new ones. You totally should, though! Those old posts have great link juice and likely get more traffic as well. Adding in links to your newer posts from your older ones can boost those pageviews.
25. Add affiliate links to popular or old posts.
There's no reason not to have affiliate links on every single post. But if you started out never adding affiliate links (like I did), choose some popular older posts to add affiliate links to.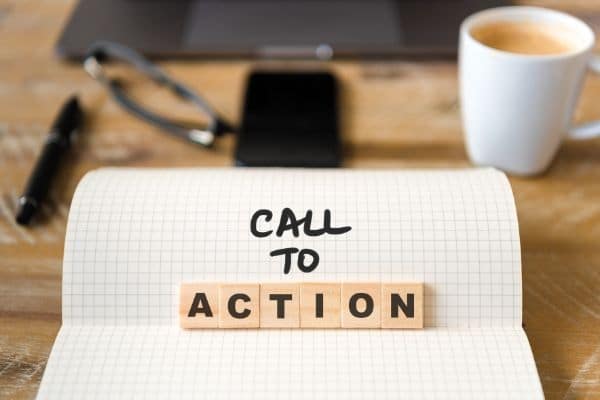 26. Add a call to action (CTA) to an old post.
Those old posts need a lot of help, don't they? All posts should close with a call to action, so if you know you left that out early in your blogging journey, go back and update some posts with a call to action. Your CTA can be to share the post, to opt in to your email list, to leave a comment, and so on.
27. Take some photos for an upcoming post.
Look at your editorial calendar to see what your upcoming posts are, and take some photos for them. Or use your phone to snap some photos for Instagram. It never hurts to get ahead on pictures.
28. Outline a post.
You may not be able to draft a post in 5 minutes, but you can definitely create a great outline. You'll be amazed at how fast you can write your posts when you have an outline to go by.
29. Schedule social media posts.
If you use schedulers, take a few minutes to add some posts to your queue. We use Tailwind for Pinterest and Buffer and Coschedule for Facebook and Twitter.
30. Create graphics for an upcoming post.
If you have 5 minutes, you have enough time to create a pin as well as Twitter and Facebook images for an upcoming post. Create templates in Canva or Picmonkey to save time on creating blog graphics.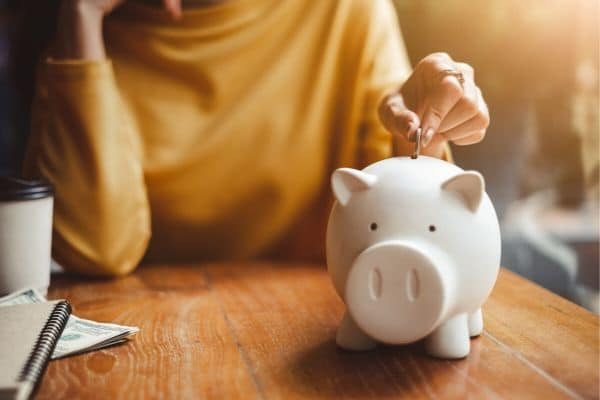 31. Sign up for a new affiliate program.
Make that money, girl! You should always be on the prowl for affiliate products that are a great fit for your brand. Take a few minutes to scout for some.
32. Research for an upcoming post.
This probably goes hand in hand with creating an outline, but you may need to research stats or tips for an upcoming post. Use the Evernote web clipper to save your notes and the source.
33. Add posts to your Tailwind tribes.
If you use Tailwind, the tribes feature is a great way to get your pins in front of some power pinners. Remember to re-pin other posts from your tribe mates, too.
34. Apply for a sponsored post.
Check your blogger networks to see if any sponsored post opportunities are a good fit for your brand. If so, take a few minutes to flesh out a great pitch for a post.
35. Do your keyword research.
Don't post blindly. Do your keyword research to make sure your posts are optimized for Google and the other search engines.
36. Swipe some blog headlines.
Make grabbier headlines by researching people who are pros at it. Look at online magazines and Buzzfeed type sites for blog post title ideas to tweak for future posts.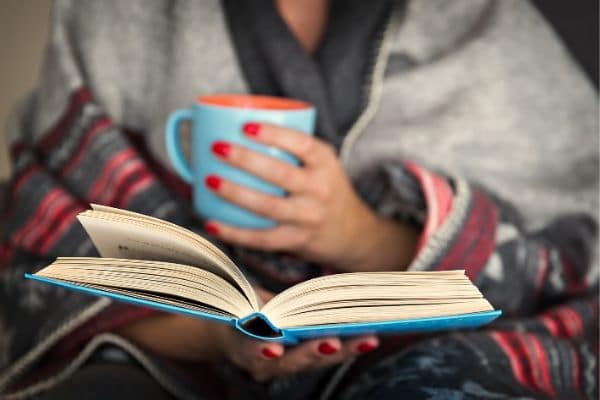 37. Read a chapter in a blogging or business book.
Remember all those books and PDFs you've purchased but never worked your way through? Start now! Just 5 minutes may motivate you to work on it more frequently.
See? There's so much you can do for your blog, even if you only have a few minutes here and there.
Want to keep this list at your desk? Download our quick and dirty version of this blog tasks list by joining our newsletter list!